SCHÖNE TAGE EP
   "SCHÖNE TAGE EP" – BALKANBEATS SOUNDSYSTEM
Release Date: 21. 03. 2017
Label: BalkanBeats Records
---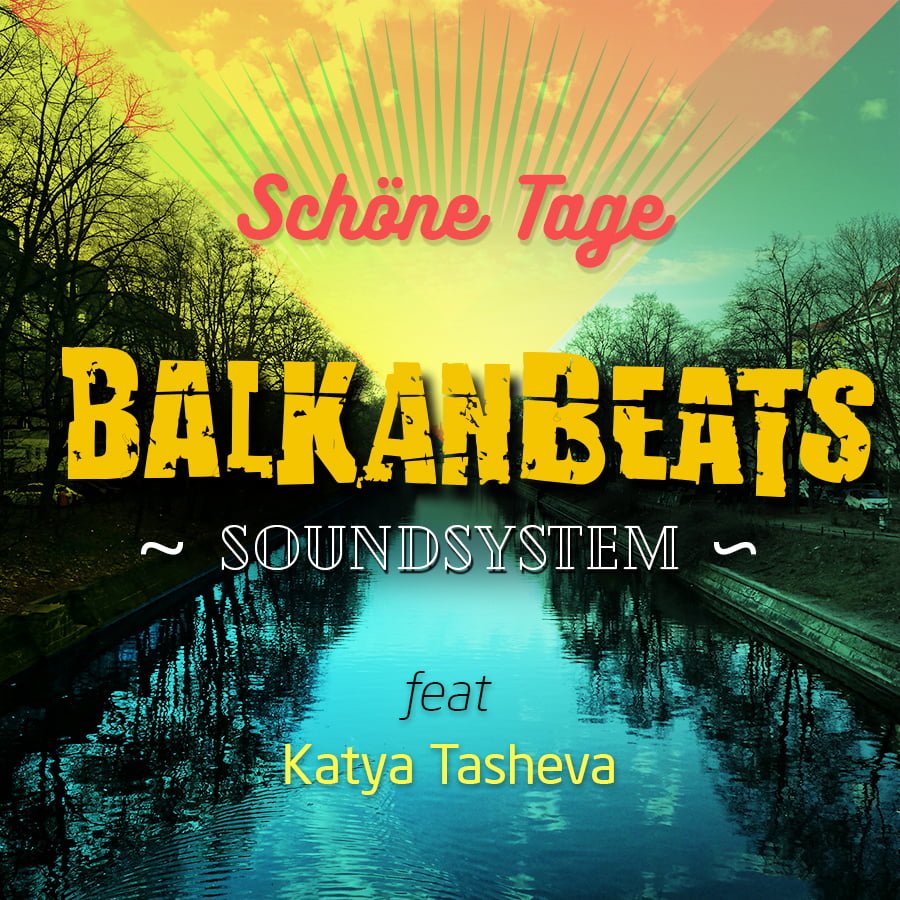 ---
Text by Hanaa Hakiki ⎜ECCHR

SCHÖNE TAGE EP – BALKANBEATS SOUNDSYSTEM feat. KATYA TASHEVA
Release Date: 21st March 2017 / BalkanBeats Records, Berlin
With Spring and its promise of sunny days to come, what better track but Schöne Tage (nice days in German) !
This first release of Berlin-based BalkanBeats SoundSystem (Robert Šoko & Uroš Petković) is a tribute to Berlin, its language and its celebratory free spirit.
With Katya Tasheva's enchanting Bulgarian voice as well as DJ Tagada and Dr Fre's magic remixes, BalkanBeats SoundSystem's single Schöne Tage will be the soundtrack of your late nights and early mornings.
---
1. SCHÖNE TAGE (3:30) – ISRC DEVA91600004
2. SCHÖNE TAGE DJ TAGADA REMIX (5.09) – ISRC DEVA91700003
3. SCHÖNE TAGE DR FRE REMIX (4:02) – ISRC DEVA91700002
4. SCHÖNE TAGE SLOW MOTION (3:05) – ISRC DEVA91700001
5. SCHÖNE TAGE INSTRUMENTAL (3:05) – ISRC DEVA91600001
---
COMPOSER: UROŠ PETKOVIĆ
VOCALS: KATYA TASHEVA & ROBERT ŠOKO
LYRICS: ROBERT ŠOKO, KATYA TASHEVA
ARRANGEMENT: UROŠ PETKOVIĆ & ROBERT ŠOKO
TRUMPET: MILOŠ NIKOLIĆ
VIOLIN, GUITAR, KEYBOARDS: UROŠ PETKOVIĆ
ARTWORK: GORAN RADOVANOVIĆ
Recorded, edited and mastered at the BalkanBeats Studio in Berlin Kreuzberg 2016 / 2017.
---
We would like to thank Tatjana Šoko, Alen Hebilović, Hanaa Hakiki and Piranha Arts for their support and insight. And of course, as ever, our BalkanBeats crowd, who knows how to show us when we err and so beautifully rewards us when we don't.
---
BALKANBEATS SOUNDSYSTEM ★ BERLIN GERMANY

BalkanBeats Soundsystem is the alliance of Uroš Petković and Robert Šoko , two Berlin based DJ´s and Music producers originally from the Balkans.
The " BalkanBeats SoundSystem" project was launched in the beginning of 2016. The songs "Schöne Tage" is one of their first  productions – stay tuned!

     BALKANBEATS  SOUNDCLOUD
---
YOU ARE A JOURNALIST ?!




Send us an email with the subject SCHÖNE TAGE EP for a free EPK (mp3, images, text)
please include all publishing details

---
Copyright © 2017 BalkanBeats Records, All rights reserved.
---