PAPAGEI EP
PAPAGEI EP – BALKANBEATS SOUNDSYSTEM feat. DR FRE & BALKAN HOTSTEPPERS, DJ TAGADA and DATAX.
Release Date: 02. 03. 2018
Label: BalkanBeats Records

---
---
This nursery rhyme – special BalkanBeats edition – is our homemade recipe for nonsense. Just close your eyes and let the trumpet shake your brain. In light of this track's online popularity, we decided it was time to release a special EP, with the touches of Dr Fre & Balkan Hotsteppers, DJ Tagada as well as Datax.
---
COMPOSER: UROŠ PETKOVIĆ
VOCALS:  ROBERT ŠOKO
LYRICS: ROBERT ŠOKO, HANAA HAKIKI
ARRANGEMENT: UROŠ PETKOVIĆ & ROBERT ŠOKO
TRUMPET: MILOŠ NIKOLIĆ
GUITAR, KEYBOARDS: UROŠ PETKOVIĆ
ARTWORK: MATEA KASALO
Remixing:
Frederik Kühn (Dr Fre / Holsbeek, Belgium), Pepijn Engel & Jannes Taminau (Balkan Hotsteppers / Leuven, Belgium), Ignace Corso (DJ Tagada / Paris, France), Igor Serafimovski (Datax / Berlin, Germany)
---
1. PAPAGEI UP and DOWN VERSION (3.21) – ISRC DEVA91800001
2. PAPAGEI DR FRE  & BALKAN HOTSTEPPERS RMX (4.26) – ISRC DEVA91700004
3. PAPAGEI DJ TAGADA RMX (4.32) – ISRC DEVA91600003
4. PAPAGEI DATAX RMX (3.25) – ISRC DEVA91700001
5. PAPAGEI DATAX CLUB RMX (5.23) –
DEVA91800003
6. PAPAGEI INSTRUMENTAL VERSION (3.21) – ISRC DEVA91800002
7. PAPAGEI ORIGINAL VERSION (3.16) – ISRC DEVA91600005
Recorded, edited and mastered at the BalkanBeats Studio in Berlin Kreuzberg 2016 / 2017 / 2018.

---
We would like to thank  Hanaa Hakiki, Matea Kasalo, Frederik Kühn, Pepijn Engel, Jannes Taminau, Ignace Joseph Corso, Igor Serafimovski  and many other beautiful birds for their support and insight. And of course, as ever, our BalkanBeats crowd, who knows how to show us when we err and so beautifully rewards us when we don't.
---
BALKANBEATS SOUNDSYSTEM ★ BERLIN GERMANY

BalkanBeats Soundsystem is the alliance of  Robert Šoko and Uroš Petković, two Berlin based DJ´s and Music producers originally from the Balkans.
STAY TUNED!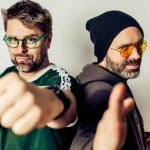 BALKANBEATS SOUNDCLOUD
---
YOU ARE A JOURNALIST ?!




Send us an email with the subject
LET ME  SHAKE YOUR PAPAGEI 

for a free EPK (mp3, images, text)

please include all publishing details

---
Copyright © 2018 BalkanBeats Records, All rights reserved.
---