LESKOVAČKA RUMBA REMIX – SINGLE
LESKOVAČKA RUMBA BALKANBEATS REMIX – MARKO MARKOVIĆ BRASS BAND
Release Date: 14. 04. 2018
Label: BalkanBeats Records
---
---


Release Date: 14th April 2018 / BalkanBeats Records, Berlin

Marko Marković Brass Band – the younger generation of Balkan Brass drives this genre to the next level.
At the order of the day: Global urban Crossover. The foundation is – and remains – the abundant treasure trove of Balkan folk music. The analogue sound is left untouched – traditional wind instruments conventionally played.
The son of Balkan Brass' official superstar Boban Marković, no wonder Marko blew to the trumpet as soon as he could hold it. Yet he now slipped from under the family wings and roams as his own master on international stages with his band, ready to conquer the world.
This energetic track from the young trumpet master was revisited by BalkanBeats dance floor expert Robert Šoko and his magic handed acolyte Uroš Petković, for a perfect party proof version.
---
1. LESKOVAČKA RUMBA REMIX (4.22) – ISRC DEVA91800004
COMPOSER: MARKO MARKOVIĆ
REMIXING: UROŠ PETKOVIĆ, ROBERT ŠOKO
Edited and mastered at the BalkanBeats Studio in Berlin Kreuzberg 2018.

We would like to thank Marko Marković, Piranha Arts, Lido Berlin and the "Turkish Dealers Choir".
---
BALKANBEATS SOUNDSYSTEM ★ BERLIN GERMANY

BalkanBeats Soundsystem is the alliance of Robert Šoko and Uroš Petković, two Berlin based DJ´s and Music producers originally from the Balkans.
STAY TUNED!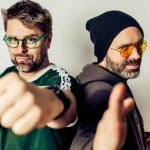 BALKANBEATS SOUNDCLOUD
---
YOU ARE A JOURNALIST ?!




Send us an email with the subject
LESKOVAČKA RUMBA BUMBA BABY

for a free EPK (mp3, images, text)

please include all publishing details

---
Copyright © 2018 BalkanBeats Records, All rights reserved.
---